Get The Most Out Of Your Accounting
Experienced consultants teach best practices
Are you grappling with the complexity of QuickBooks? Are you so bogged down with bookkeeping that you can't focus on running your business? We understand, and we can get you through it. Whether you need help with QuickBooks setup and implementation, QuickBooks training, or someone to come in and manage it all for you, our Independent QuickBooks Professionals can help.
The first step to confidence in the numbers is having a commitment-free call with one of our Certified QuickBooks ProAdvisors.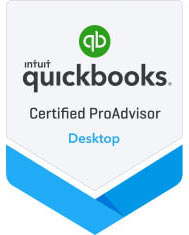 Independent QuickBooks Consulting Services:
QuickBooks Implementation Services


Get it right from the start. We'll configure QuickBooks for your unique business structure and requirements. The result? Financial data and reporting you can trust.

QuickBooks Custom Reporting


Good information is understood information. Get clear insights from your data with Lucrum's QuickBooks Custom Reporting Services.

QuickBooks Forecasting Consulting


Let us help you plan for your business's future with QuickBooks cash flow forecasting, expense forecasting, and more.

QuickBooks Budgeting Consulting


Our team of CFOs and accounts help to create and manage your budget in Quickbooks to stay on track each month.

QuickBooks Cash Flow Consulting


Let us help you track inflows and outflows, identify areas for improvement and set up cash flow projections with our QuickBooks Consulting Services.

QuickBooks Job Costing Consulting


We can help you use QuickBooks to determine the profitability of each job, identify areas where costs can be reduced, and create accurate estimates for future projects.

QuickBooks Training Services


Our certified QuickBooks experts can help to train up your internal staff for better bookkeeping.

QuickBooks Audits


Not sure if QuickBooks is set up correctly? Read our "No Judgment Promise" and let us take a look.
Packages start at just $700 and are estimated based on complexity. Contact Lucrum today so you can have Confidence in the Numbers.
---
*Lucrum Consulting is not a Quickbooks reseller, or affiliated with Intuit. Consulting services are provided as a third-party service independent of any relationship our client may have with Quickbooks.
Schedule your FREE Consultation
Create an Action Plan with Lucrum
Lead Confidently

Our 'No Judgment' Promise
It can be intimidating to give someone a look behind the curtain at your business. Don't worry, we've seen it all. We're here to help you, not judge. We understand how exposed it can feel to share your books with a stranger.
When you are able to make confident business decisions based on reliable data, you will wonder why you waited so long to start!